Bedroom design trends for 2022
As the seasons make their final changes of the year, the time has once again come to look forward to the future and make some predictions for what will soon become the most popular interior design trends of 2022.
Making a move away from busy colour schemes and steering clear of industrial trends, both of which have been popular over the last few years, bedroom design trends for 2022 demand a warmer, uncluttered and natural aesthetic.
The colourful-inclined designers among us still have much to look forward to, however, with strategically placed patterns, bold colours and interesting textures still predicted to make appearances throughout the new year.
In this post, we will be updating you on the top design trends for bedrooms in 2022, giving you some fresh bedroom interior design inspiration and detailing how you can achieve our favourite looks in your own home.
Botanical bedroom trend
Drawing heavily upon the bohemian style, the aesthetic plant-themed bedroom has taken the interior design world by storm. With so many of us spending more time than ever before at home, eating, working and sleeping within the same walls, plants have been invited to join us to bring a little bit of the outside to the inside. They give us routine, help oxygenate rooms and make us feel a little closer to nature.
While the botanical bedroom can be created in a wide variety of ways, our favourite here at Gingerlily is by leaning into the natural freshness of the trend. If your bedroom has substantial sources of bright, natural light you're already halfway there. Simply add as many plants as you feel capable of caring for, being sure to get a mix of small desk plants, large standing plants and hanging plants to create a beautiful, textured plant bedroom.
With the plants in place, the last addition that really completes this 2022 bedroom trend is to make up the bed with some clean, white silk bedding. The perfect backdrop for so many beautiful green tones, white silk sheets add to the breezy, natural feel of the space, creating a tied-together, luxurious place to lay your head each night.
Nature-inspired patterns
While we are absolutely in love with the plant-filled bedroom trend, we also know that many people can't join in on the green-fingered fun. Fortunately, for those who suffer from allergies, have a bad track record for caring for plants or who simply don't have enough time to water their jungle bedroom, there are alternatives for incorporating nature into your sleeping space.
From luscious forests, flourishing flowers to underwater wonders, the design world has become obsessed with incorporating nature into our lives. Gingerlily has not been idle either, partnering with interior designer, illustrator and colour consultant Vanessa Konig to create a stunning collection of coral inspired silk bedding that perfectly encapsulates the nature-inspired bedroom trends of 2022.
The Gingerlily X Vanessa Konig Collection comes in three colourways, underwater blue, muted pink and soft green, and features three frilled cushions in different shapes, a simple base colour cushion and matching eiderdown to complete the look.
Scandinavian bedroom ideas
A trend that has been around for some time and isn't slowing in popularity this year, the Scandinavian-style bedroom radiates a sense of rustic harmony that is absolutely perfect for a space dedicated to switching off from the stresses of the day and achieving a deep, restorative sleep.
Rustic, and yet modern at the same time, the Scandinavian bedroom trend balances clean, simplistic lines with natural wood tones, with a minimalist approach to accessorising. The balance between these styles is struck easily, creating a peaceful space that works from season to season, especially when the soft furnishings are made up of complementary creamy, soft tones.
At Gingerlily, we love the Scandinavian bedroom trend with our own ivory Signature collection of silk bedding. This colourway perfectly offsets the wooden tones that are central to the style, allowing for a clean, warm and peaceful space. To deepen that feeling of comfortable luxury, we've also added the Windsor silk bedspread in ivory to our own interpretation of this style, which is sure to grow even more in popularity next year.
Romantic French simplicity
A more elegant alternative to the natural ruggedness of the Scandinavian style bedroom, romantic French simplicity remains at the forefront of bedroom design trends in 2022. Striking the perfect balance between subtlety and extravagance, this trend is defined by sophisticated colour matching, glossy finishes and subtle detailing.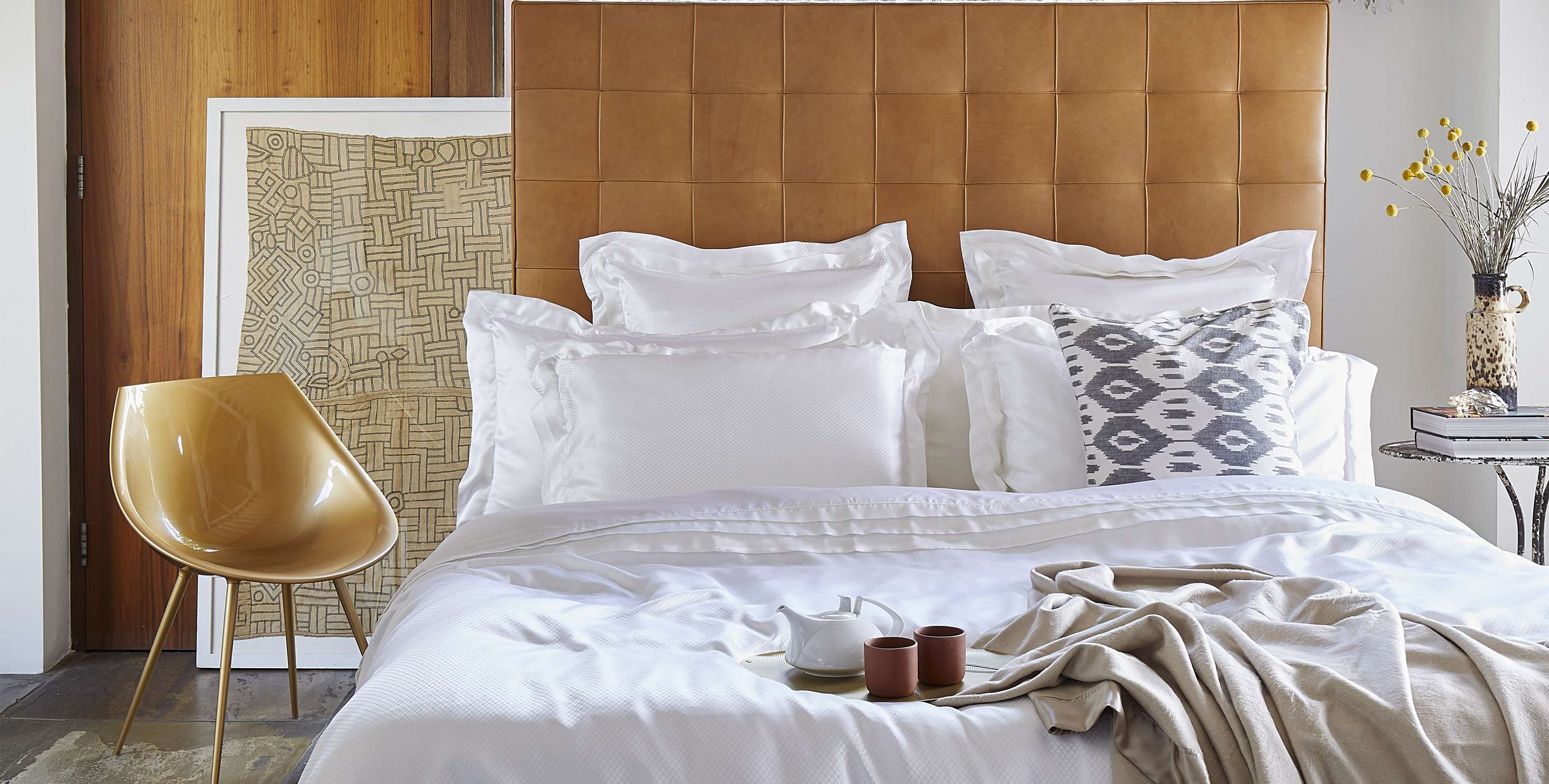 With so many beautifully romantic trends having come out of France, it's unsurprising that another one is gaining popularity just in time for the new year, and the theme surrounding this bedroom trend is simplicity. This means that, instead of beds piled high with ruffles and endlessly ornate furnishings occupying every corner of the room, this bedroom design trend demands quiet colours and careful layers of texture.
Stay on trend this new year with our Jacquard Woven Design Collection in Eva White which features all the best style staples for this increasingly popular 2022 bedroom trend.
Pops of colour
As you may have already noticed, many of the bedroom design trends of 2022 are defined by soft, natural tones and clean, white colour palettes. Fortunately for lovers of bright and bold designs, injecting a little pop of your favourite colour into the room is simple - not to mention on-trend.
While many people naturally lean towards the colours that complement their favourite season, with Autumn-lovers opting for rich oranges and deep reds, and spring-lovers preferring fresh greens and sunny yellows, we recommend opting for something a little less seasonally-inclined.
To make a bedroom scheme last through the seasons, we recommend our tranquil Signature collection in teal. Offering a beautiful sea-blue colourway that lends itself to the crisp colours of winter as well as the fresh tones of summer, this season-bending bedding set is perfect for bringing a pop of colour into your bedroom.
Eye-catching contrasts
Just as bold colours have found their way into the list of bedroom trends for 2022, so too have contrasting patterns. Not too loud or clashing, this look remains in-line with the simplistic, uncluttered trends that continue to triumph on the interior design stage, and poses a particularly refreshing and interesting challenge to designers.
This trend is defined by the creation of unique contrasts within the bedroom that are designed to draw the eye. A little trickier to achieve than more simplistic trends, contrasts must be jarring enough to shock the eye without outright warring with one another. The goal is to create surprisingly complementary patterns and colours, not clashes that can't work together to create an overall cohesive look.
If you're looking to play it safe and use a tried and tested collection, the contrast between the Moroccan style pattern and the icy blue colourway of the Casablanca Silk Bedding Collection at Gingerlily is the perfect way to create this trend in your own bedroom.
Looking to recreate these beautiful bedroom trends in time for 2022? Shop the latest styles of silk bedding online at Gingerlily.