Victorian Style Bedroom Trends
When it comes to decorating your home, there are so many popular styles and interior design trends to choose from. Recently, popular trends have been leading people towards minimalistic, modern design but, for the extravagant luxury lovers among us, that clean cut style just doesn't do it. Instead of following the crowd, choose to go bold with our favourite Victorian bedroom ideas.
A niche look that can be difficult to achieve, the Victorian style bedroom is all about decadence, but it's also more varied than you might think. Not just the voluminous pile of ruffles and frills that first springs to mind when we think of a traditional Victorian style bedroom, this style has naturally evolved over the years into countless trends. In fact, under the umbrella style of the Victorian era there's the decadent Victorian gothic style, the soft-toned romantic Victorian style and even the increasingly trendy modern Victorian style.
Drawing inspiration from a mixture of traditional styles and current trends, we've put together a list of our favourite Victorian bedroom ideas. Join us as we detail each Victorian style bedroom trend and even give you some ideas for recreating the same look in your own room.
How do I make my room look Victorian?
Not known for their understated, threadbare boudoirs, the Victorian style is characterised by excess and, as such, if you want a Victorian bedroom you'll have to meet that level of décor. Even with the wide range of divergent trends that have come out of the base style, you can still expect plenty of traditional Victorian accents including frills and ruffles, heavy draping fabrics, dark colours and rich shades.
Because of the over-the-top décor, if you want to make your own Victorian bedroom, commitment is key. Decorating the room from top to bottom, complete with dark wood-toned furniture, decadent soft furnishings in complementary tones and new wallpaper or paint will make all the difference in creating a tied together look.
Romantic Victorian bedroom ideas
Perhaps the most traditionally 'Victorian' style on our list, when we think of a romantic Victorian bedroom our minds automatically conjure images of ruffles, an excess of frilly fabrics and beautiful heritage pink tones. Fortunately for people with smaller bedrooms, our romantic Victorian bedroom ideas also lend themselves well to smaller spaces, making this an accessible style for all.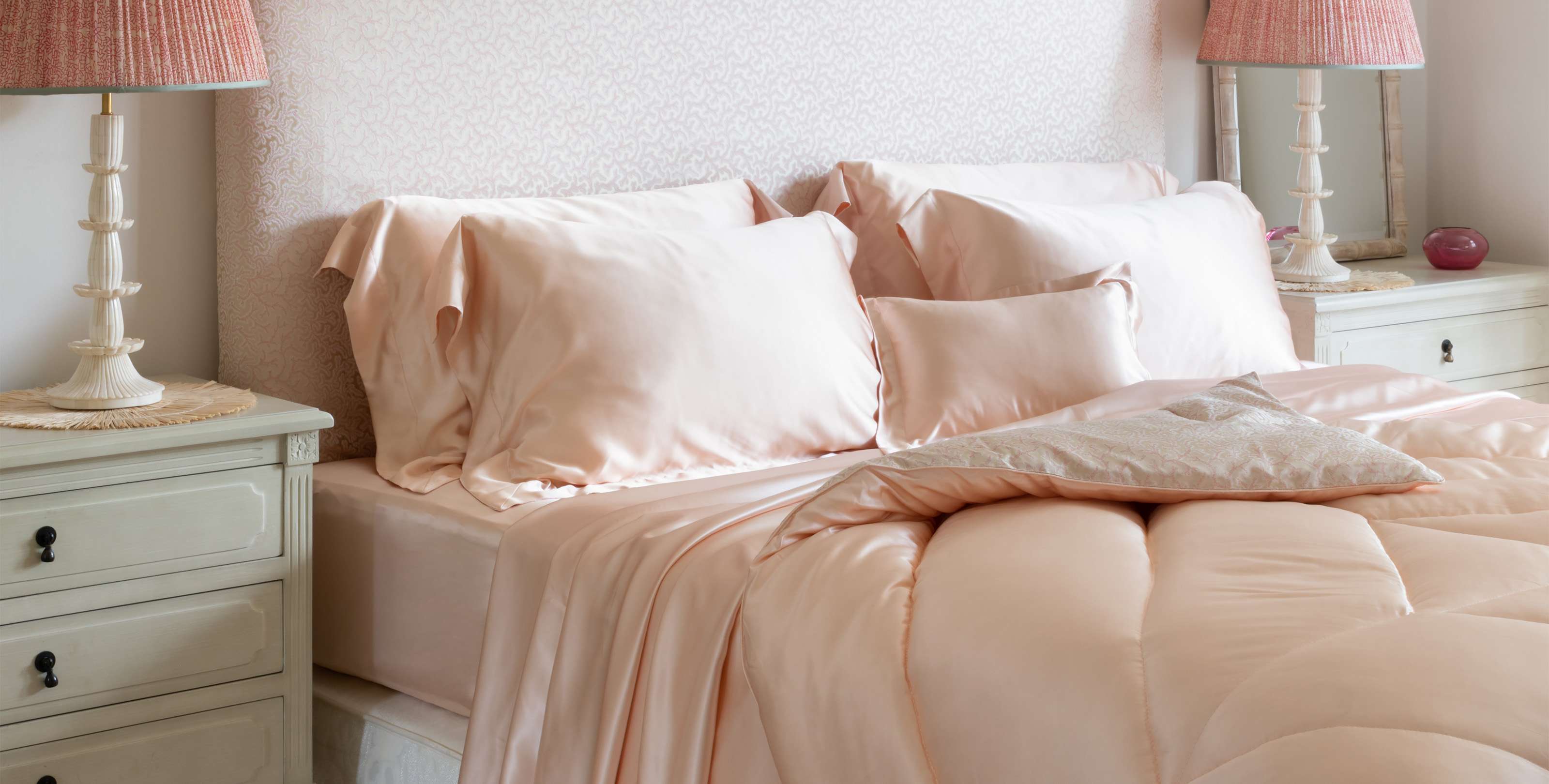 Traditionally, the centrepiece of any Victorian bedroom was the bed and, while the dramatic four poster bed draped in heavy, rich fabrics is no longer in fashion, our romantic Victorian bedroom ideas still draw inspiration from this design. No matter the size of your bed, indulging in a luxury Victorian inspired pink ruffle bedding or pink frilly bedding is the perfect place to start.
At Gingerlily, this romantic style can be replicated by taking the sheets from our Signature rose pink collection and layering them with the pink ruffle bedding from our matching Gingerlily x Vanessa Konig collection. Both designed to share a beautifully sophisticated pink colourway, this pink Victorian bedding is utterly timeless, especially when topped off with a collection of pink frilly decorative cushions.
Gothic Victorian bedroom ideas
Characterised by dark mahogany woods, draped soft furnishings and rich colour schemes, the Victorian Gothic style is a lesson in dramatics. Reminiscent of the melancholic, brooding novels of the Victorian era like Dracula, Frankenstein and The Picture of Dorian Gray, this style can be spectacular when done right.
If you're looking for gothic Victorian bedroom ideas, our primary recommendation is to go all out. Victorian gothic does nothing in half measures and the entire room needs to tie together to pull off this very bold style. Do this by furnishing your bedroom with dark toned wooden or wood-effect furniture, richly coloured wallpaper and Victorian gothic bedding.
Our own charcoal silk bedding from our Signature collection is the perfect addition to any gothic Victorian bedroom. The deep grey colour of this Victorian gothic bedding is offset by the natural sheen of the silk, helping to introduce both lighter and darker tones to the bedroom. Style this alone or mix it up by adding accents from our Signature blush or navy collections. Both richly toned with an air of decadence, the champagne hues of the blush silk bedding and the dark blue tones of the navy bedding belong with the charcoal colourway.
Modern Victorian bedroom ideas
The most recent trend to arise out of the traditional Victorian style, the modern Victorian bedroom has been adapted to suit the more minimalist tastes that dominate the interior design scene. With some layers of gaudiness removed, our modern Victorian bedroom ideas focus around balancing the contrasting elements of excess and refined taste.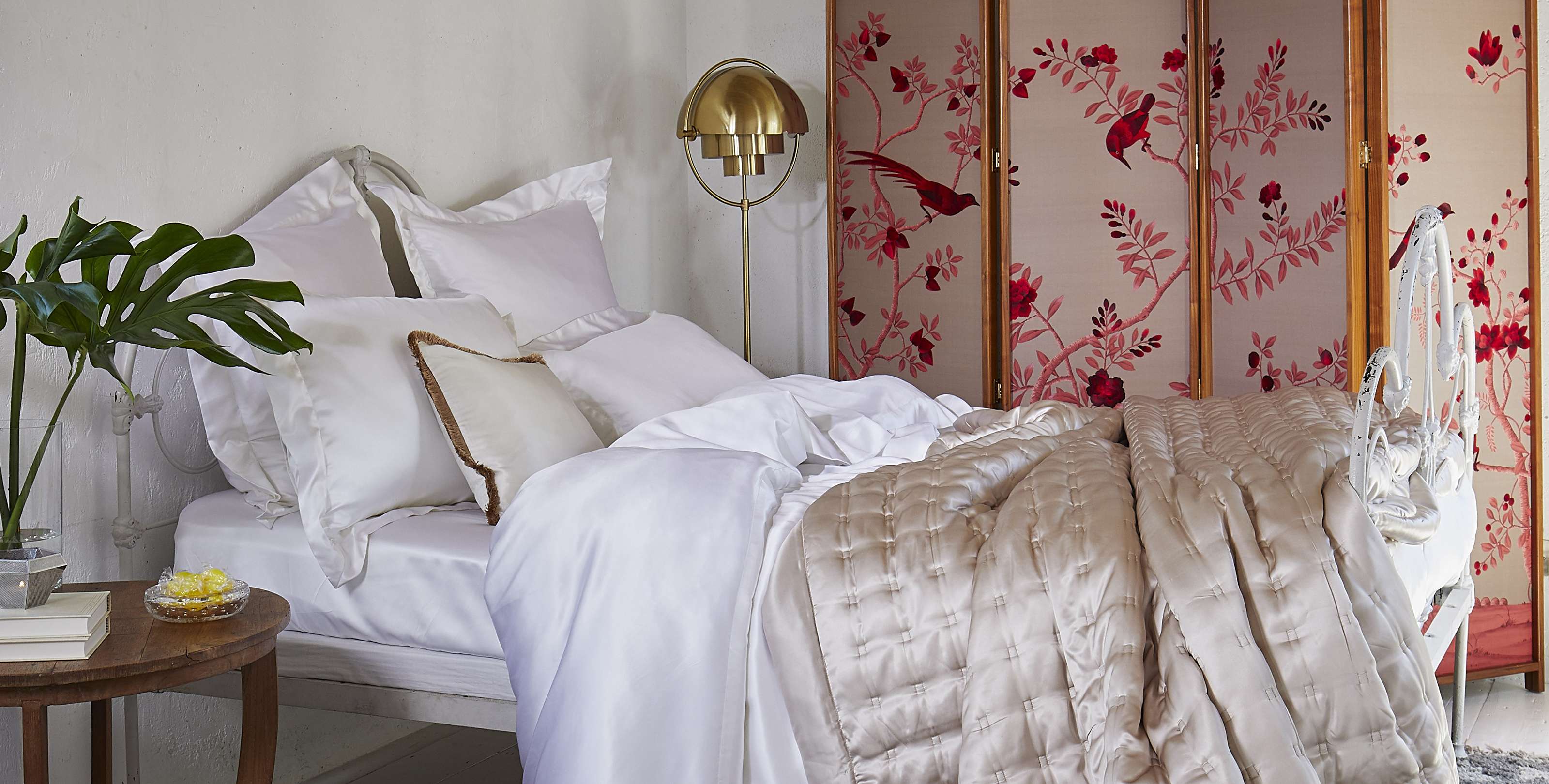 Timeless and chic, our favourite modern Victorian bedroom ideas centre around bringing a fresh feel to Victorian excesses with a more neutral colour palette. We've done this by keeping the ruffled themes with a cleaner, white Victorian bedding piled high with bordered white silk pillowcases.
At Gingerlily, our Signature white silk bedding set is the perfect base layer and, when layered up with the blush toned Windsor bedspread, the combination strikes the ideal balance of decadence and modern refinement. For a richer look, you could also swap the white ruffle bedding for a full ivory colourway, but we recommend keeping some contrasting cushions to add a little dimension to the overall look.
Create a Victorian style bedroom at Gingerlily
Whether you're drawn to the modern simplicity of our modern Victorian bedroom ideas, can picture yourself sinking into a bed piled high with romantic pink ruffle bedding or are ready to put our gothic Victorian bedroom ideas to the test, find the bedding sets you need to complete the look at Gingerlily.
Made from 100% mulberry silk, our bedding is more than just a styling staple. Browse the full Gingerlily range and feel all the wondrous health and beauty benefits that accompany luxury silk bedding by shopping online at Gingerlily.