How to Stay Cool at Night
During the summer, keeping cool at night is no easy task. Even after the sun has gone down, the lingering heat can negatively impact our sleep. We often find ourselves tossing and turning, unable to get comfortable and wake up feeling tired and irritated rather than refreshed and ready for the day.

If you're searching for some new ways to cool down at night and get a more comfortable night's sleep, join our experts as we share our tips and tricks for ensuring that you can get a restful night no matter the temperature.
How to sleep in hot weather
Getting a good night's sleep in the summer is not about how you sleep, but rather the material you choose to sleep in. Because so many of us default to using cotton or polyester bed sheets and duvets as these are some of the most popular and readily available options, we don't stop to think about the properties of these materials and how they might have an effect on the quality of our sleep. Fortunately, silk provides an excellent alternative to using these materials as it presents numerous natural benefits and qualities that can help to ensure you're kept cool. There are lots of ways to incorporate silk into your nightly routine that can have a positive impact on your sleep.
Use a lightweight duvet
For many of us, to get a good night's sleep means being underneath a cosy and comfortable duvet. However, in the summer this isn't always the case as a heavy duvet can often result in trapped heat between layers and an inability to maintain a comfortable body temperature.

The solution is not to avoid using a duvet or cover altogether though, as this can affect your ability to sleep as your body temperature will drop, and a cover can help to induce a peaceful slumber. Instead, you should try using a lightweight duvet or a light blanket. Our luxury summer duvet is the perfect option. Equivalent to 2-4 tog, this silk filled duvet will help you stay cool at night by providing a gentle cover that can help to regulate your body temperature. Additionally, the summer duvet features buttons and small ties on the sides and corners, allowing it to be combined with an all seasons weight duvet, or winter weight duvet if extra warmth is required in the colder months.

Silk has a unique property that means it is a thermal insulator, allowing breathability in which excess heat can be dispersed, and warmth is captured in between the threads. Silk doesn't trap the heat underneath the duvet as cotton or synthetic materials might, which means you won't become too hot at night under a light silk duvet.
Luxury Summer Duvet - starting at £99
Sleep in silk
To reap the full benefits of the cooling properties of silk, we recommend using a complete silk set that includes bedding and pyjamas. Not only does silk possess thermal insulation properties, but it is also able to draw excess moisture away from the body. Of course, many fabrics are able to absorb moisture, but silk is unique in the sense that this moisture is not retained in the fabric. Instead, silk is able to disperse this excess moisture, meaning that you won't feel an uncomfortable dampness if you become too hot during the night.

In terms of silk bedding, we recommend choosing a light colour for the summer. Especially if your bedroom receives lots of natural or direct sunlight. Opting for light colours such as the Ivory Silk Bedding collection will reflect harsh sunlight rather than absorb it and convert it into heat, as a darker colour might. This will help to ensure that your bed is as cool as can be before you settle down for the night.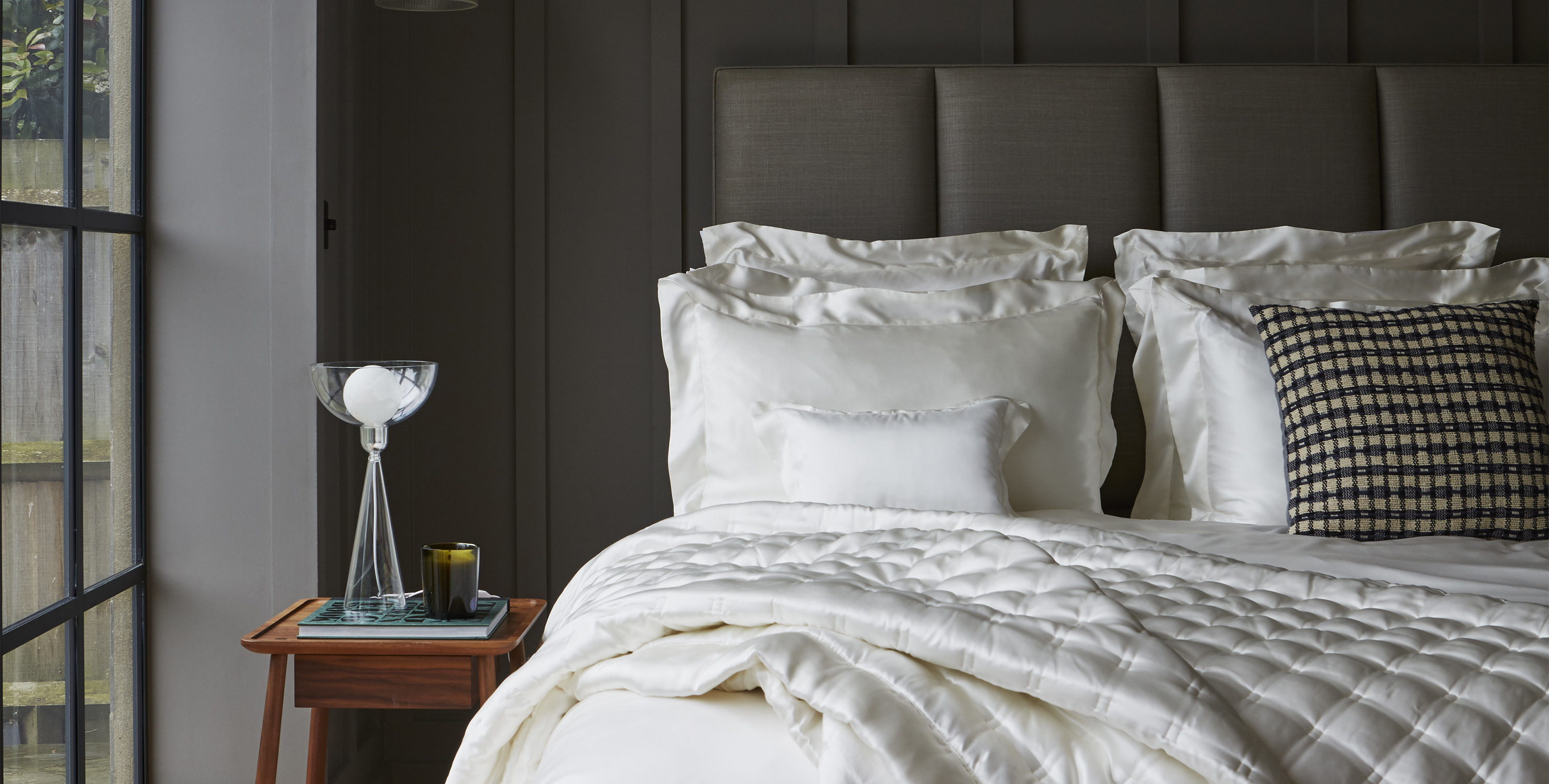 If you'd like to take this a step further, you may also wish to opt for a set of ivory silk pyjamas. If you're not one to sleep without pyjamas, even on the hottest of days, this silk set will help to ensure that your body temperature is stabilised and the luxuriously soft fabric can lull you into a comfortable sleep.

Ivory Silk Pyjamas - £267.00
Tips for keeping cool at night
Of course, we can't control the weather or humidity, and there are times when no matter how hard you try, you just can't doze off. There are usually external factors that cause this, and sometimes there are further measures we can take to ensure that the risk of these external factors disturbing our quality of sleep are minimised.

Use a bedside fan
This is a common trick for when the nights are just too hot. This trick works especially well when combined with the use of a silk pillowcase, as even though silk has temperature regulating properties, a cooling breeze can help to disperse extra body heat to keep you cool. You could even place a frozen ice pack or bowl filled with ice to blow chilled air over you as you fall asleep, and we recommend adding some essential oils to create a deeper sense of calming luxury that will help you drift off.

Use an eye mask
On occasion, it is not the heat that keeps us awake, but the shining sun at the crack of dawn. In this instance, we highly recommend investing in a silk sleep mask. Our selection of silk sleep masks are designed to block out the light, and come in a wide variety of colours. They're also extremely comfortable to wear, so can double up as a comforting sleeping aid to help you unwind at the end of a long summer's day.

Blush silk eye mask - £43.50
Remove any throws and accessories
To ensure your bed is cool before you get in, it is recommended that you remove any extra pillows, throws, or accessories and turn down your duvet about an hour before you plan to go to sleep. This ensures that any hot air or excess heat can be released. Additionally, if you have air conditioning or a fan, you can turn these on at the same time so that your bedroom is cooled down for you and ready for a cosy night's sleep.
Keep cool with Gingerlily's luxury silk bedding and nightwear
Whether you're looking to completely overhaul your sleeping space in time for the summer season, or if you're searching for some alternative options for keeping cool at night, discover the benefits of luxury silk at Gingerlily. 
Explore a wide variety of bedding options, different duvet weights, cooling nightwear, and more to help improve your quality of sleep.